Mount Baldy
Elevation: 11,068
Location: Wasatch Range, Utah
Mount Baldy sits on the border of Alta and Snowbird ski resorts. It is frequently climbed, probably because it is so close to the tram, and it is a relatively easy climb.
A variety of routes are possible for climbing this peak. Probably the most scenic is to hike from Albion Basin past Secret Lake to the saddle between Baldy and Sugarloaf and follow the fairly gentle east ridge to the peak. A trail exists here all the way to the peak, and the climb is only about 1,600 feet vertical.
A longer variation would be to ascend to that same saddle between Baldy and Sugarloaf, but from Collins Gulch (the major canyon west of Albion Basin, east of Snowbird). A hike up the maintenance road here is more like a 2,500 foot climb over nearly three miles. An even longer approach would be to ascend from Snowbird's Peruvian Gulch, making the climb about 3.5 miles and 3,000 feet vertical.
From the summit you'll have a great view back down the canyon as Baldy juts out somewhat north of the other peaks along it's ridge, offering a more un-obstructed view down canyon. Crossing the ridge between Baldy and Hidden Peak is fairly easy as a faint track exists there. If you're ascending Peruvian Gulch, be on the watch for a branch towards Mount Baldy just before the summit of Hidden Peak.
All sorts of possibilities exist for climbing multiple peaks around Mt. Baldy. Climbing Sugarloaf and Baldy, or Baldy and Hidden Peak are very common. A more difficult, but still somewhat popular climb is to ascend Baldy from Albion Basin, and follow the ridge over Hidden Peak, then over the rugged east ridge to American Fork Twin Peaks (known as the "Bullion Divide") and then either dropping into White Pine Canyon, or possibly going over Red Baldy (via a very rugged ridge!) before dropping into White Pine. This climb is a much more difficult all day type of climb with some significant scrambling and exposure in spots.
I've climbed Baldy three times, plus a couple of visits from riding the tram up to Hidden Peak. It is a good climb if you're looking for a great view but don't want to commit to an all day sort of climb or deal with dangerous scrambling/exposure. Ambitious skiers sometimes ski down the "Baldy Chutes" which you'll see up close if you come up the Collins Gulch way.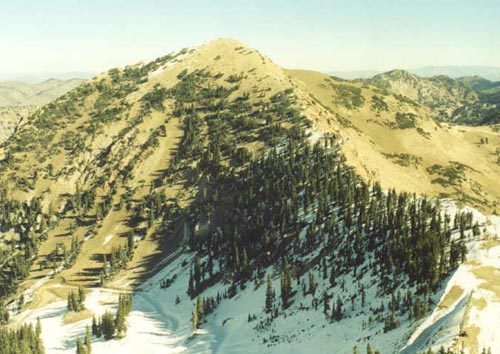 2002 Update: Made another ascent of Mt. Baldy on October 19th via Peruvian Gulch after climbing Hidden Peak. Despite the early snow, travel across the connecting ridge was easy. There were only a few spots of the ridge covered with snow at the beginning, and it was all packed and made for easy walking, after about half way, it was mostly dry up to the summit (which had a good deal of snow on it). The view hasn't changed a bit, still awesome, and one of the best in all the Wasatch.
2003 Update: Climbed Mt. Baldy for the sixth time, but this time via a new route, the north ridge which seperates Alta and Snowbird ski resorts. The north ridge is gained at about 9,800 feet after first ascending the standard Collins Gulch trail (service road) for about a mile and a half. The lower part of Collins Gulch was filled with flowers and quite scenic at this time of year. As you get about half way up Collins Gulch you can see a lift heading west up to the north ridge of Mt. Baldy, and a service road cutting up to the ridge. Finding the exact road amidst all the branches is difficult, but cross-country walking directly to this road is easy. One short switchback and you arrive on the north ridge of Baldy, unfortunately the view back into Snowbird and Little Cottonwood is blocked by thick pine trees.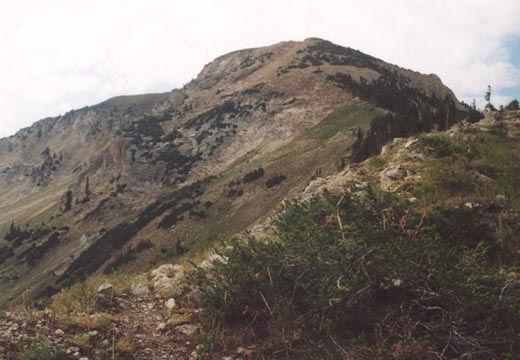 A faint trail leads up the north ridge. The first couple hundred feet is gentle and very enjoyable, but then the ridge rears up and the trail gets quite steep for about 600 feet until just below the summit of Baldy. As you climb and the trees thin, you get some great views back to Snowbird, the Pfeifferhorn/Lone Peak area, and down Little Cottonwood Canyon, not to mention the cliffs that drop off of Baldy's north face. At about 10,900 the angle eases considerably and it's a cakewalk from here to the summit. This was a generally overcast day, but the rain appeared to be staying both north and south of me. I descended Baldy's east ridge which was considerably steeper and rockier than I had remembered (the lower part).
With the weather staying cooperative, I opted to bag nearby Sugarloaf Mountain as well via the west ridge, a steep but easy trail. At the top a hawk circled above, and oddly enough, someone had left their glasses behind on the summit! As quickly as I got to the top the clouds began to darken and a little rain started to fall. I headed back down quickly, passing a group of obnoxious scouts into Collins Gulch. The trip down was excellent amidst occasional light rain and splendid views coupled with all the wildflowers.