Little Water Peak
Elevation: 9,605
Location: Wasatch Range, Utah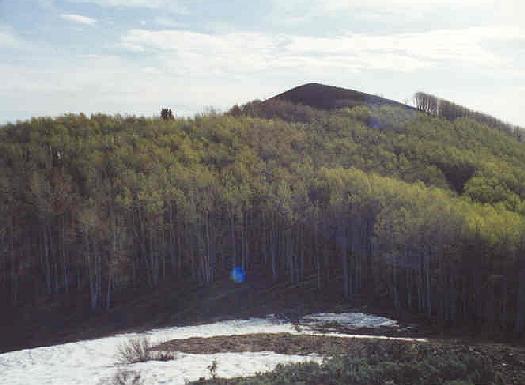 Little Water Peak is a relatively obscure peak located between Big Cottonwood Canyon and Mill Creek Canyon. At just 9,605 feet it is low compared to it's higher neighbors to the south, but it stands above nearly everything to the north.
My wife and I hiked up Mill D North Fork in Big Cottonwood Canyon to Dog Lake (a hike of 2.4 miles and about 1,450 feet) and made a camp here on saturday of the 2001 Memorial Day weekend. From here it is about .6 miles and 800 feet to the summit of Little Water Peak, so it can easily be climbed as a day hike. After an uncomfortable night of sleeping I awoke early and headed for the summit of Little Water Peak early as to avoid the extreme heat later in the day. The hiking guides seem to indicate a trail that can be found leading towards the peak but I certainly had minimal luck finding anything more than a deer trail in most places.
I followed the trail to a junction on the ridge where it meets the Little Water and Big Water trails coming up from Mill Creek Canyon (both alternative routes to approach the area by). From here, I found my way through some trees to an open section. Next was a steep slope of trees, followed by another open section leading to a false summit (marked with a cairn) of about 9,400 feet. From here I was already getting a great view back towards my camp and nearby Reynolds Peak. The true summit of Little Water could be seen to the east a ways further. Ahead was a dip of about 100 feet and another section of dense aspen trees. While I sat on the false peak a pair of elk roamed through the dip ahead of me. I headed down after they passed by, and quickly ascended past the trees, and again onto open territory where now a decent path could be followed to the rocky peak.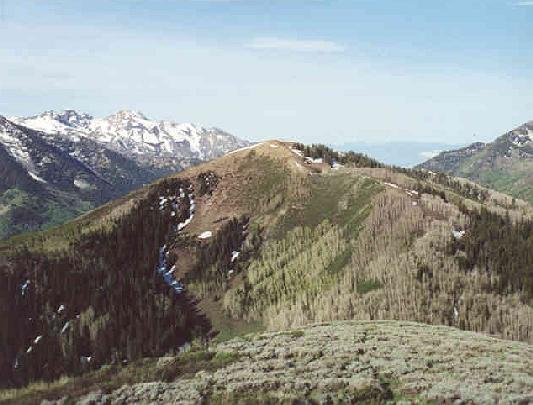 I was a little surprised to find no cairn on the fairly large summit (two peaks actually of about equal height), so I built a tiny, wimpy looking one that hopefully will make it thru the summer. While the hike was not pleasant, the views made it worth the effort. To the west were the prominent peaks of Mt. Raymond and Gobblers Knob, with the smaller Reynolds Peak nearer. Far in the distance could be seen parts of the Salt Lake Valley thru the gaps in Big Cottonwood and Mill Creek Canyons. Grandeur Peak's dome was visible turning north, and far off in the north were Bountiful and Francis Peak. The peaks of the Brighton area were still full with snow even with the hot weather in recent weeks. Further down the Cottonwood ridge the high peaks of Superior, Dromedary, Sunrise and Broads Fork Twins looked very imposing compared with the other peaks nearby. Beyond Cottonwood ridge the peaks of Alta and Snowbird could be seen, as well as White Baldy.
The trip down was relatively easy save one fairly steep descent on a loose rock and gravel slope, and the fairly simple route-finding through the trees in spots. Upon returning to camp, we packed up and headed out. The round trip climb of Little Water Peak was six miles, with a climb of about 2,400 feet vertical. On a one-day trip the climb would probably take around four to five hours. Nearby Reynolds Peak was slightly easier and had a better trail, with similar views.
BACK