Wildcat Ridge
Elevation: my highpoint 9,750', true highpoint 9,773'
Location: Wasatch Range, Utah
Wildcat Ridge is the ridge continuing east from Mount Olympus, that seperates Big Cottonwood Canyon and Mill Creek Canyon. While not as high as Cottonwood or Alpine ridges to the south, Wildcat has a reputation for it's challenging scrambling that seems to equal those two higher ridges. Extreme hikers can climb Olympus and continue east over fierce terrain to Triangle Peak (elev. 9,400'), and continue east, over Neffs Canyon Pass, even sometimes as far as Mount Raymond.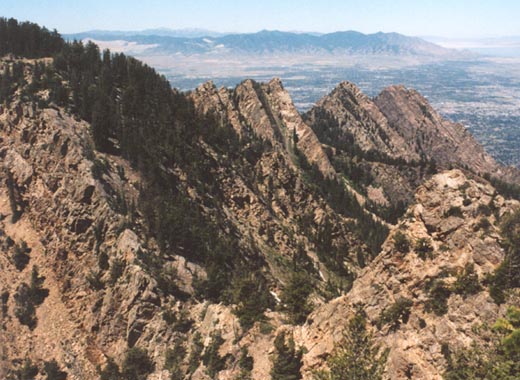 My idea was to attempt the easier eastern half of Wildcat, to get a feel for what I would be dealaing with should I go for the whole enchilada someday. Getting to the ridge requires a 3.75 mile, 3,600 foot vertical hike up Neffs Canyon to the saddle where you get a spectacular view across Big Cottonwood Canyon. One perk of this hike is the spring at about 8,800 feet where you can get good water.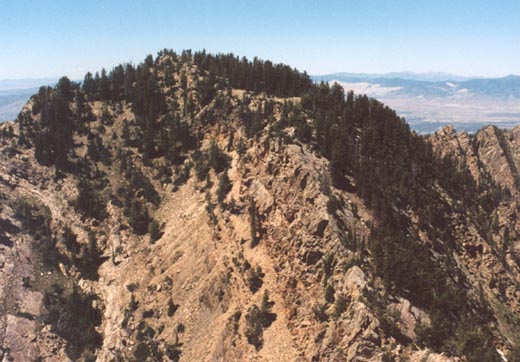 From the saddle, a steep climb of about 400 feet leads to the first of several minor peaks. The biggest challenge of this first peak is the thick vegetation. From the summit, head northwest down through more rocks and forest onto a more gentle, open section of the ridge. The ridge continues west, gaining slowly and working around rockier sections, before reaching peak 9,720+ where for the first time you get a view west down the steep cliffs towards Mount Olympus and the Salt Lake Valley below. The cliffs are impressive, and the ridge turns into a knife edge. Here, you can leave the ridge on the south side along a steep slope and work around the nastiest of the cliffs for a few hundred feet. Work back to the ridge, and then continue on the north side past large rocks and you will come to peak 9,760+. Trees obscure the view here, but head south to peak 9,750 for a great view west down the massive cliffs of Whipple Fork, and the great views west to Hobbs Knob (peak 9,773'), Triangle Peak and Mount Olympus. You will see why the east part is the easier part of this ridge!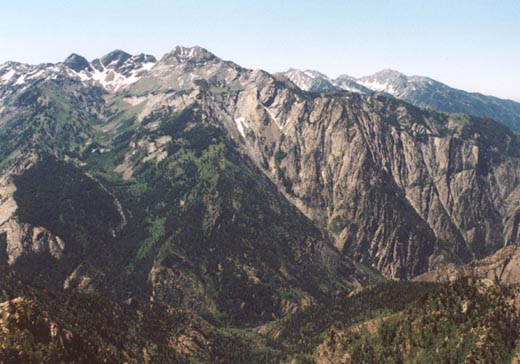 I had hoped to get to Hobbs Knob, the highest point on Wildcat Ridge, but time was already working against me. Still, it was obvious that you had to leave the very rough ridge connecting to Hobbs, by getting on the north side and dropping well below the ridge. The hike back was more remembering my route, and enjoying the incredible views and solitude of this ridge. Overall, the east half of Wildcat struck me as easier than I had expected (once you find the best routes), and offers some encouragement that doing this climb may not be so unreasonable afterall someday.