Mount Wolverine
Elevation: 10,795
Location: Wasatch Range, Utah
Mount Wolverine is a popular and reasonably easy to climb peak not far from Salt Lake City. It is the highest peak in the Brighton area, and more difficult to climb (and more scenic) than it's neighbors Sunset and Clayton Peaks.
The peak can be climbed from a variety of ways. Most climbers get to the peak from either Catherine Pass or Twin Lakes Pass. Catherine Pass is reached from a 2.4 mile scenic hike from Brighton, or a shorter and less scenic hike (about 1.25 miles) from Albion Basin at Alta. Twin Lakes Pass is a 2.5 mile hike from Brighton (great views of Wolverine cirque beyond Twin Lakes), or a shorter two mile hike from Grizzly Gulch at Alta (less scenic again). A third option is to climb the peak via Mt. Millicent (via Twin Lakes from Brighton). This is the most rugged route, involving a steep talus climb of Millicent before climbing to Wolverine. Best yet is to do a loop from Brighton or Alta, climbing up one route, and down another.
From Twin Lakes Pass (9,993 feet), you'll have to ascend the broad, gentle ridge that bends around the rugged Wolverine cirque. The ridge gets rockier and has great dropoffs down into the cirque, but it is easy to avoid the exposure and stay on the gentler south side of the ridge. Follow the rocky ridge as it steepens up the final part of the peak. From the summit you'll have great views in all directions. To the west you'll have a good view down Little Cottonwood Canyon to the higher, more rugged peaks near Mount Superior. Across the canyon you'll see the peaks of Alta and Snowbird ski resorts. If the 2,100 foot climb up Wolverine is too easy, the numerous peaks in the area offer a variety of multi-peak trips.
Climbing the peak from Brighton, via Catherine Pass is my favorite route up Wolverine. The hike is short and scenic to Lake Mary, and gets better as you move higher past two more lakes and up to Catherine Pass. Snow lingers well into summer on this north facing part of the mountain.
From Catherine Pass at 10,220 feet, follow a track leading up towards a subpeak of Wolverine called Mount Tuscarora. The track is steep, and soon deteriorates into easy rock scrambling thru some brush. When you reach the summit of 10,660 foot Tuscarora you'll have a fine view back towards Lakes Mary, Martha and Catherine below. From here the angle eases over the final 100 feet or so to Wolverine. It remains a boulder hop to the peak across an angled slope.
Wolverine is one of the best half day hikes in the Wasatch. It's more rugged nature than other Brighton peaks makes it more fun for me, and it is usually less crowded than Sunset Peak. Be careful on the trip down regardless of route taken as there is some loose rock on steep slopes on both ridges.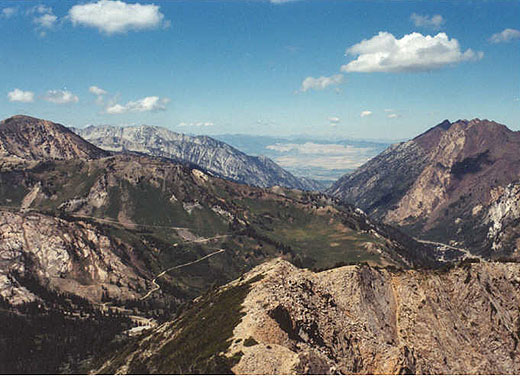 2001 Update: Climbed Wolverine on August 4th on a beautiful day after a pair of rainouts on previous attempts. This time I hiked up to Twin Lakes, then to Twin Lakes Pass and up a track that leads steeply up grassy and rocky slopes to the summit ridge leading over Wolverine Cirque. The track passes very near the spectacular drops, and may not be advisible for children. However, for mature hikers, the ridge is short but quite interesting. On this day some clouds were growing but never threatened too seriously. The only drawback on this ascent was the stiff wind blowing at a good 50 mph much of the summit ridge.
The views from Wolverine are excellent in all directions as it is the highest peak in the immediate area. I decided to take the route over Mt. Tuscarora and back to Catherine Pass and hike out past Lakes Catherine and Mary. While I didn't see anyone beyond Twin Lakes Pass on the hike up, the trip down the Catherine side was much more crowded. The roundtrip time this way (including a short road walk back to Silver Lake) was about four hours.
2002 Update: Made another ascent of Wolverine, this time via Twin Lakes and Mount Millicent by climbing the ridge seperating Millicent and Wolverine. For more details of the climb see the Mount Millicent link.