Yankee Boy Basin
Elevation: 13,500 at Scree Col; 12,980 at Blue Lakes Pass
Location: San Juan Range, Colorado
This hike started out as an attempt on 14,150 foot Mount Sneffels, but due to weather and sub-par health, was abandoned short of the summit. Mt. Sneffels sits in the rugged San Juan mountains of southwest Colorado. The standard route up Sneffels is up the scenic and popular Yankee Boy Basin. We left July 21st, making use of the Utah state holiday weekend. We arrived in Montrose, Colorado in early afternoon and could clearly make out Sneffels on the horizon, as well as the peaks near Uncompahgre Peak. The following morning we headed up to Ouray to try Sneffels.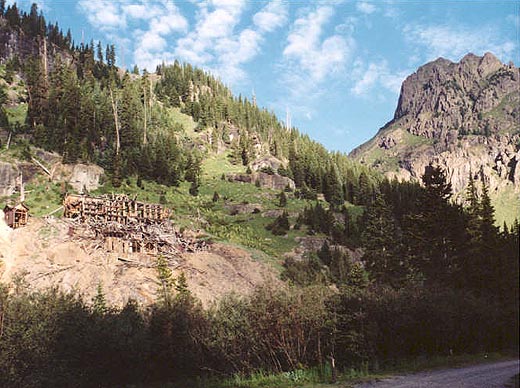 Roach's "Colorado Fourteeners" book describes the standard drive up Yankee Boy Basin as driveable in a passenger car to 6.7 miles. However, I struggled to get my four door sedan to about 5.6 miles (passing literally under a cliff at one point!). Here I decided to park and just walk the extra mile. We did not realize how popular the road is, and how high it can be driven in four-wheel vehicles (or motorcycles). We began walking up the road and soon reached a sign with maps of the area. We followed the standard road higher into the basin. While it is notorious for its summer flowers, they didn't seem to be out in full force yet, but the basin was still very scenic. While Sneffels is the highest peak in the region, from Yankee Boy Basin it is quite bland looking. Nearby Potosi Peak and Gilpin Peak are lower, but much more spectacular looking mountains.
After a long walk we arrived at the Blue Lakes trail, and much to our surprise, the four-wheel vehicles could drive all the way up here at about 12,400 feet! While I'm happy for their easy access to the high country, it severly takes away from the "wilderness" feel of the canyon. Evidently most hikers drive all the way up to the Blue Lakes trail to start their Sneffels climb, reducing it to a modest 1,750 foot climb! Both Allen and I were feeling the effects of the altitude that was higher than we were used to. We stopped in a bowl under Sneffels and debated whether we should go on towards the peak, or due to growing dark clouds (at 10am!!), just head up the trail to Blue Lakes Pass. We decided to ascend the 800 foot hill to "Scree Col." between Sneffels and Kismet. The ascent to the 13,500 foot saddle was much more challenging than the book made it sound. After an eternity of slow climbing up talus and scree we made it to the ridge with a fine view. Unfortunately with the extra distance and slow climbing, too many dark clouds had already built up, and as I already had a bad cough and sore throat from a previous climb in Utah we decided to turn back here. A few climbers could be seen heading up the second, higher crack towards Sneffels summit, and there looked to be very little snow in the crack this year.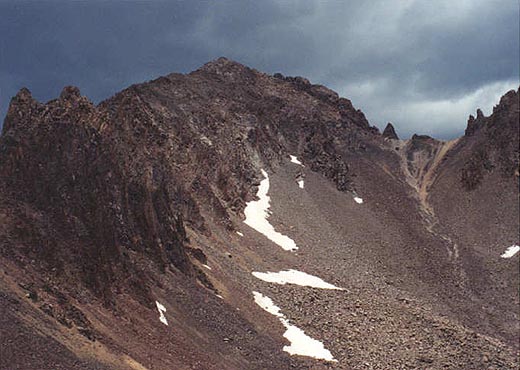 After a 5-10 minute rest at the ridge for drinks, food and pictures, we started back down. Allen opted to retrace his route down over the more solid talus, while I thought I'd try the steep, sandy part to the side of it. It only took a few feet of descent to realize that it was probably better to take the slower walk down the talus and ensure not falling on my face. The descent of this hill was just about as bad as the climb up. Once back in the basin, we opted to make the most of our time here and take the half mile trail to Blue Lakes Pass (figuring it was much lower than Sneffels, and not quite the lightning hazard). We quickly made the pass at 12,980 feet with a fine view of Blue Lakes and rugged Dallas Peak. With dark clouds rolling in, we stayed just a few minutes and headed down.
The trip down was tedious and miserable. We constantly had to move off of the road for passing motorists, all of which would put dust into our faces. Do not go to Yankee Boy Basin and expect wilderness solitude at all!!! It was about a 4.5 mile walk from Blue Lakes Pass down to where we had parked. Fortunately while we got no real rain, it stayed overcast much of the way. We arrived back at the car and made the drive out without any damage to my car. We made the drive back to Montrose for pizza and rest. The lesson learned here is if you're going to go into Yankee Boy Basin, take a four-wheel drive vehicle!!!